Copa America Upcoming Events:
---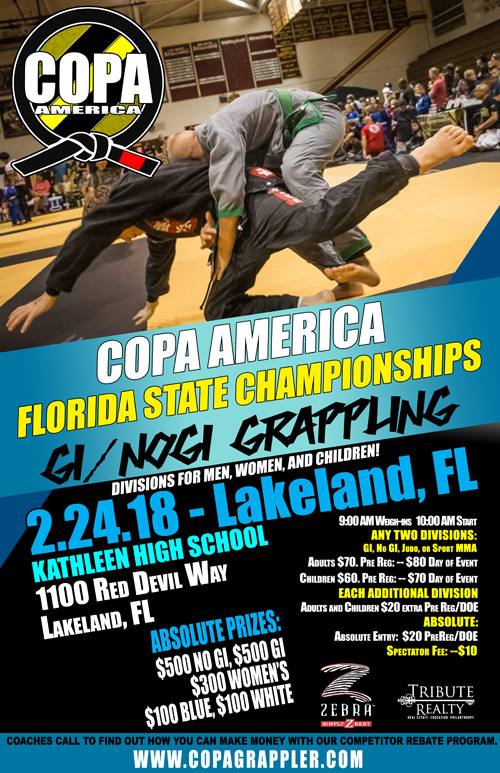 ---
Saturday February 24th Copa America Submission Grappling Championships will be in Lakeland, FL for the Copa America Florida State Championships!

CLICK HERE FOR EVENT RULES AND REGISTRATION PACKET

CLICK HERE TO PRE-REGISTER
ABSOLUTE PRIZES:|
$500 GI, $500 No-GI
$300 Women's
$100 Blue, $100 White

Weigh Ins are at 9:00 AM

Event Starts at 10:00 AM

For More Info call Ross at (863) 934-1833

Coaches call to find out how you can make money with Copa America on our competitor rebate program. Contact Ross Kellin at (863) 934-1833 to participate in the program.


Mail all Packets to:
Ross Kellin
8226 US Highway 98 N
Lakeland, FL 33809
---
Refund Policy: All refund requests will need to go directly through Kristin Kellin. Please e-mail your request with any pertinent information including your confirmation number if you pre-registerd and we will get back to you as soon as possible. If you have any questions please call me directly at 863-934-1833.
Upcoming Events:

FEBRUARY
Date
Event
City
State
2.24.18
Copa Florida State Championships
Lakeland
Florida
MARCH
Date
Event
City
State
3.17.18
Copa Destin
Destin
Florida
APRIL
Date
Event
City
State
4.21.18
Copa Atlanta
Atlanta
Georgia
MAY
Date
Event
City
State
5.5.18
Copa America
Lakeland
Florida
JUNE
Date
Event
City
State
6.16.18
Copa Destin
Destin
Florida
JULY
Date
Event
City
State
7.21.18
Copa Atlanta
Atlanta
Georgia
AUGUST
Date
Event
City
State
8.4.18
Copa National Championships
Lakeland
Florida
OCTOBER
Date
Event
City
State
10.20.18
Copa Atlanta
Atlanta
Georgia
10.27.18
Copa Destin
Destin
Florida
NOVEMBER
Date
Event
City
State
11.3.18
Copa World Championships
Lakeland
Florida
---